Автор темы

ADMIN

Дата начала

17 мин. назад
Команда форума 1 Апр 2022 3,990 33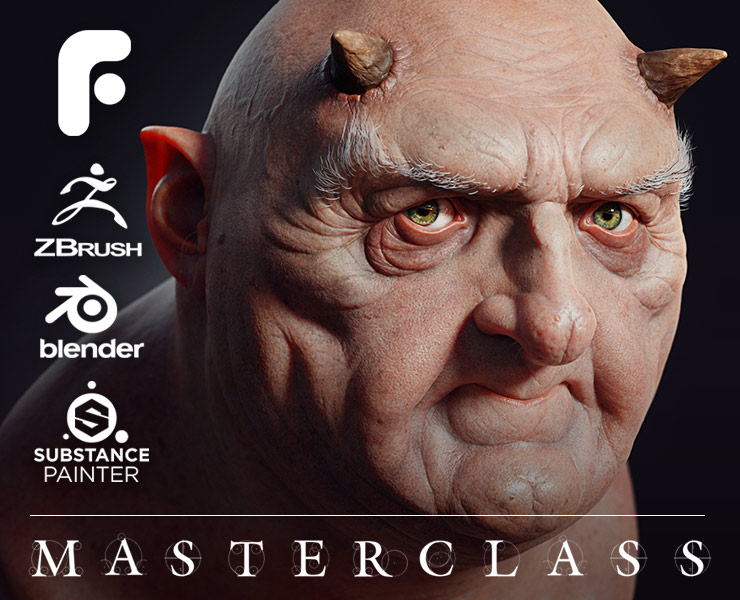 Realistic Character Portrait Masterclass
We're excited to present our very first Exclusive Character Masterclass! With over 20 hours of expert training, you'll learn how to make a full character bust for production. Every single step is shown in real time without time-lapses, from the first brushstroke in ZBrush to the final shader tweaks and lighting in Blender.
By the end of this masterclass, you'll know all the steps involved in creating your own high-quality characters using ZBrush, Substance Painter and Blender!
SCULPTING
Learn to sculpt like a professional and gain the techniques you need to create your own characters, including valuable insights into character design and anatomy. Starting from a simple blockout, we'll bring our character to life through sculpting; every single step is covered, all the way from blocking out the shapes, to creating intricate details such as pores and wrinkles.
RETOPOLOGY
Using Blender, our character will be retopologized using simple and powerful techniques. We'll teach you an approach to retopo you can be use in any retopology software and on any character. By the end, we'll have nice and clean topology that is guaranteed to deform beautifully in rigging and animation.
TEXTURING AND SHADING
Realistic skin texturing and shading can easily get overwhelming, so in this masterclass we've made sure to break the process down in a way that'll leave you feel empowered to achieve stunning results on your own. In Substance Painter, we're going to texture paint our character. You'll learn how to make a powerful Albedo/Base Color map, along with painting the Roughness and Scattering maps. From ZBrush, we're exporting a Displacement map which we'll add to our textures. In Blender, we're building our skin shader, teaching you how to set up subsurface scattering to make the skin look realistic.
LIGHTING AND RENDERING
With the power of Cycles in Blender, we're lighting and rendering our character. Focusing on keeping it simple and effective, we're creating a gorgeous final render. Going away from Filmic, we're instead using AgX to get a natural and balanced image. This is a fun step as you'll see your character come to life on the screen in front of you, and get to experience how the knowledge you have gained up until this point is paying off in the final result.
POST PROCESSING
The importance of good post-work is often underestimated, so we've included a chapter that shows you just how dramatic of a difference a bit of well aimed post processing can make for your work. In Photoshop, we'll be balancing the colours and value, and show you some handy tips and tricks to make your character pop, resulting in a portfolio piece you can be proud of.
FOLLOW IN ANY SOFTWARE
While we're using Blender, ZBrush and Substance Painter, the real value of the course is in the fundamental skills you'll learn. As long as you're comfortable with your own 3D workflow, you can follow along in any other software. You can sculpt in Blender instead of ZBrush, texture in Mari instead of Painter, retopologize in Maya or Max, and light and render your character in Arnold, V-Ray or any other render engine.
YOUR TEACHER
Henning Sanden is the Co-Founder of FlippedNormals and worked for many years in film industry as a character artist, focusing on sculpting and texturing. He's worked on hero characters and creatures for Alien Covenant, Pacific Rim Uprising, Pirates of the Caribbean, and many more at MPC, DNEG and Framestore. All the techniques in this character masterclass are based on Henning's experience in the film industry, ensuring that everything taught is relevant and up to date with current industry standards.
RECOMMENDED SKILL LEVEL
This course is made for artists with intermediate to advanced skill levels who wants to take their work to the next level. We highly recommend that you're comfortable with the software used while going through this character masterclass. Everything still is shown in real-time without any time lapses, meaning that you can still follow, though each step and feature won't be explained in-depth.
REQUIREMENTS
You need to know how to use the 3D software used in the course.
Intermediate skills at texturing, sculpting and general Blender usage.
This is not course for complete beginners to character art.
SOFTWARE
Blender 3.3
ZBrush 2022
Substance 3D Painter 8.1
CONTAINS
55 HD videos
All Blender, ZBrush and Substance Painter scene files
20-page help-PDF
Lowres versions of specific alphas from the FlippedNormals Face Kit and FlippedNormals Eye Kit
Custom ZBrush UI and hotkeys
CHAPTER LIST
01 Project Overview
02 ZBrush Setup
03 Concept Sculpting 01
04 Concept Sculpting 02
05 Concept Sculpting 03
06 Design Refinement
07 Sculpting Refinement 01
08 Sculpting Refinement 02
09 Sculpting Refinement 03
10 Sculpting Refinement 04
11 Retopo Setup in Blender
12 Retopology Block-In
13 Retopology Connecting
14 Retopology Refinement
15 Retopology Ear
16 Retopology Finalizing
17 Retopology Horns
18 Reprojection
19 Character UVs
20 Sculpting Production 01
21 Sculpting Production 02
22 Sculpting Production 03
23 Sculpting Production 04
24 Sculpting Production 05
25 Sculpting Production 06
26 Sculpting Fine Details Primer
27 Sculpting Fine Details Balance
28 Sculpting Fine Details Enhance
29 Sculpting Pores
30 Sculpt Finalizing
31 Blender Setup
32 Painter Setup
33 Painter Smart Masks
34 Painter Color Map 01
35 Painter Color Map 02
36 Painter Color Map 03
37 Painter Color Map 04
38 Painter Roughness
39 Skin Shader Setup
40 Sculpting Additional
41 Painter Horns
42 Painter Balance
43 Roughness Update
44 Painter Scattering Map
45 Grooming 01
46 Grooming 02
47 Eye Kit
48 ZBrush Pimples Map
49 AgX
50 Hair Material
51 Lighting
52 Map Balance
53 Forehead Refinement
54 Final Render
55 Post Work in Photoshop
Realistic Character Portrait Masterclass — FlippedNormals
We're excited to present our very first Exclusive Character Masterclass! With over 20 hours of expert training, you'll learn how to make a full character bust for production. Every single step is…
flippednormals.com
Скрытое содержимое. Вам нужно войти или зарегистрироваться.


Realistic_Character_Portrait_Masterclass_-_FlippedNormals_Nov_2022 — (4 x 4.59 GB)
Download Realistic_Character_Portrait_Masterclass_-_FlippedNormals_Nov_2022.part1.rar from nitroflare.com (4.59 GB)
Download Realistic_Character_Portrait_Masterclass_-_FlippedNormals_Nov_2022.part2.rar from nitroflare.com (4.59 GB)
Download Realistic_Character_Portrait_Masterclass_-_FlippedNormals_Nov_2022.part3.rar from nitroflare.com (4.59 GB)
Download Realistic_Character_Portrait_Masterclass_-_FlippedNormals_Nov_2022.part4.rar from nitroflare.com (4.58 GB)
Realistic_Character_Portrait_Masterclass_-_FlippedNormals_Nov_2022 — (4 x 4.59 GB)
Download Realistic_Character_Portrait_Masterclass_-_FlippedNormals_Nov_2022.part1.rar from uploaded.net (4.59 GB)
Download Realistic_Character_Portrait_Masterclass_-_FlippedNormals_Nov_2022.part2.rar from uploaded.net (4.59 GB)
Download Realistic_Character_Portrait_Masterclass_-_FlippedNormals_Nov_2022.part3.rar from uploaded.net (4.59 GB)
Download Realistic_Character_Portrait_Masterclass_-_FlippedNormals_Nov_2022.part4.rar from uploaded.net (4.58 GB)